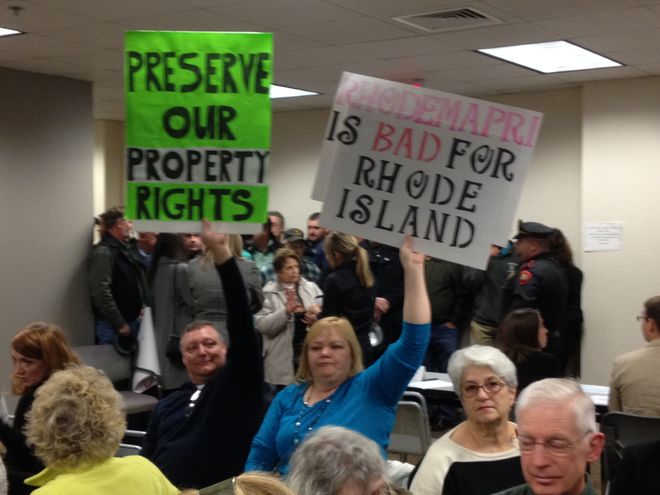 RhodeMap RI opponents signal their opposition at the start of a hearing of the RI State Planning Council on Dec. 11, 2014. Photo by Steve Klamkin WPRO News 
---
WPRO News 
The State Planning Council voted unanimously to approve the RhodeMap RI plan after hearing an hour's worth of testimony from dozens of speakers.
Over two dozen supporters and opponents of the plan took to the stand detailing to the council the pros and cons of the recommendations.
Governor Lincoln Chafee who supports RhodeMap RI said the recommendations in the plan are good tools for economic development.
"This is a good document. We're on the right road to recovery, and it's all because of inclusion," Chafee said, to a mix of applause and jeers from a crowd estimated at upwards of 200 people.
"We've heard over and over from Rhode Islanders throughout the state about the lack of an economic development plan," said Neil Steinberg, President and Chief Executive Officer of the Rhode Island Foundation, which supported the formulation of the plan.
"The language that I have heard mentioned here sounds like something out of the Communist Manifesto," said Dianne Slater, a North Kingstown resident.
"This feels like a Bolshevik revolution," Slater said.
State Rep. Antonio Giarrusso, who represents East Greenwich and West Greenwich said he has gone online to research the plan and others' experience with similar plans.
"Even if only a small percentage of that is true, it still reeks of socialism. I don't see that being economic development," Giarrusso said.
Director Mike Stenhouse of the Rhode Island Center for Freedom and Prosperity said the plan would put too much control in the hand of federal bureaucrats. He complained that the vote was decided before the session even started.
"With the outcry [The Planning Council] heard today, the fact that not one person was concerned with what the public says should tell you a lot about how this big government plot was preordained," said Stenhouse.
Stenhouse said he wants elected officials to make the decision and not appointed bureaucrats.
Chafee's Director of Administration Steven Hartford said that because there so much debate around the RhodeMap plan means there is some real meat to the issue.
"The work's been done on the plan, let's approve the plan and hand it off to the Governor-elect and general assembly and let them use it how they will," said Hartford.
The Associated Press reports House Speaker Nicholas Mattiello says he's disappointed the council approved the plan before Governor-elect Gina Raimondo took office. He said plan needs to be supported by Rhode Islanders before it can set a new direction for the state.
The Council immediately adjourned after their vote.
 Click on a picture to start the slide show: