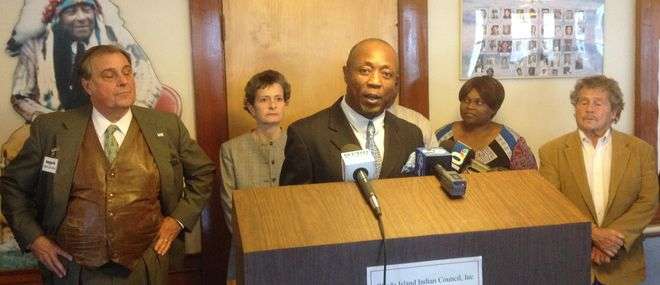 Winston Gould, head of the Liberian Community Association of Rhode Island along with U.S. Senate candidate Mark Zaccaria (at left). Photo by Steve Klamkin WPRO News 
---
By Steve Klamkin WPRO News
Rhode Island should establish a holding facility for travelers from West Africa who have already cleared quarantine, but who's family members here need additional assurance that they are free of the deadly virus.
And, the head of the Liberian Community Association of Rhode Island said the many Liberian expatriates in the Rhode Island area who work in health care facilities are being subjected to stereotyping.
"At this time, we are beginning to see something come out that should be stopped before it starts. People are beginning to stereotype people who work in those facilities," said Winston Gould.
"I already got a call from Wrentham State School, where somebody was asked to go home until he could be checked, because the administrator said he got a call that the person had Ebola. And, I want to make sure that we get protected by the administration of this state," said Gould.
Gould called on Rhode Island to set up a holding facility, where travelers from West Africa can stay until they have been tested for the Ebola virus and cleared.
He also said the U.S. should help outfit every home in Liberia with a set of protective gown, gloves and mask, so anyone showing signs of Ebola can be brought safety to the hospital. He estimated there are many hundreds of thousands of homes in Liberia, where the population was estimated at over four million.
Gould spoke at a news conference Thursday at the group's South Side headquarters, where he was joined by three Republicans running for Congress, who questioned whether the incumbent members of the Rhode Island Congressional delegation, all Democrats, were responsive enough to the Liberians' concerns.
One Republican running for Congress supported the idea of a sort of 'half-way house' in Rhode Island for travelers from West Africa.
"We need to make sure that those who are entering the United States are fully quarantined," said Cormick Lynch, the 1st District challenger to Congressman Democrat David Cicilline.
"The Liberian community has expressed deep, deep concern that that's not the case, and they're hesitant to allow their loved ones into their homes without having some sort of neutral zone to gain the reassurance that they don't have Ebola and haven't been exposed to it. That's not an unreasonable request," he said.
"What we need to do is to be able to guarantee the people of the world that we're not allowing a spread of this," said U.S. Senate candidate Mark Zaccaria, who is challenging Democrat Jack Reed.
Zaccaria called for discontinuance of all direct flights to the U.S. from West Africa and Liberia in particular, to deny visas to any non-citizens who've visited the region in the last 30 days, and to bar travel to the area by all but aid workers.
"It's going to take a little bit of leadership and my main point is that leadership has not been forthcoming here in the United States and especially from our federal delegation here in Rhode Island," said Zaccaria.
"That's what we're calling for from our Congressional delegation here in Rhode Island," said Rhue Reis, candidate for Congress in the 2nd District.
"We've have yet to see a strategic response on ISIS, on the southern border, and now on this Ebola threat," Reis said.