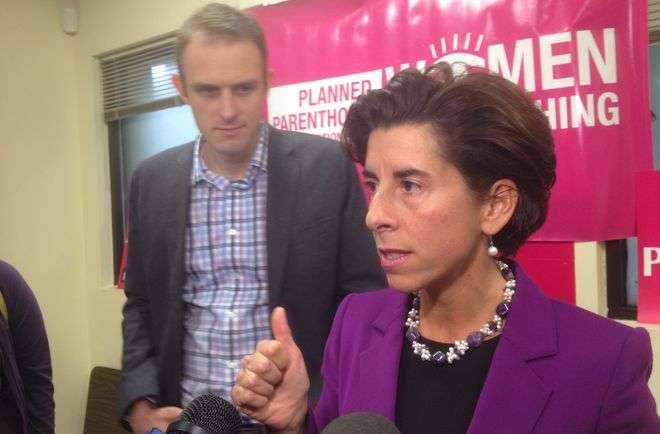 By Steve Klamkin WPRO News
Saying she has clear differences with her Republican opponent Allan Fung, Democratic candidate for Governor Gina Raimondo Thursday accepted the endorsement of the pro-choice Planned Parenthood group.
"Mayor Fung's been endorsed by 'Rhode Island Right to Life'. 'Rhode Island Right to Life' is already out there supporting Mayor Fung. Mayor Fung's on the record saying that an employer can get in the middle of a decision between a woman and her doctor about her reproductive rights, and I disagree with that," Raimondo said.
"Mayor Fung has been very clear. We just disagree. He wants to roll back the rights of women," she told reporters at the Planned Parenthood offices in Providence.
"Today I'm here to announce that Planned Parenthood Votes RI PAC is delighted to endorse Gina Raimondo for governor," said Judy Tabar, President and Chief Executive officer of Planned Parenthood Votes! RI PAC before about 30 people. She said the group had a rigorous endorsement process in which all three Democratic candidates for governor participated.
"She suggested it was time for a woman governor to shine a light on the health issues that we know are so important to the daily lives of women and men in Rhode Island," Tabar said.
"Gina joins us in opposing a constitutional convention on the ballot this fall and she told us, 'you will not find a more proactive governor than me'," Tabar said.
Fung spokesman Robert Coupe issued a statement in response to the Raimondo criticism.
"Advocates on both sides of the abortion issue have deeply-held personal beliefs and a true leader must have the ability to respect opinions on both sides.  Throughout his time in public service, Mayor Fung has been clear about his pro-choice position," wrote Coupe.
Additionally, Bishop Thomas Tobin issued a statement regarding Catholic politicians and their stances on abortions.
"It is always disappointing when a Catholic candidate for political office abandons the teaching of the Church on the dignity of human life for the sake of self-serving political gain. Such actions demonstrate an inexcusable lack of moral courage."